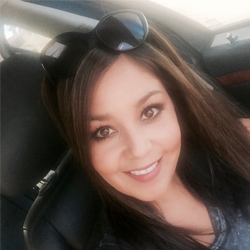 I took a road trip with my parents when I was a kid and to this day my mom says I talked for the entire seven-plus hour drive. So, let's just say talking for a living is a perfect fit. I spent years working in mainstream television news but felt called to move into radio ministry after becoming a listener.
I had gone through a devastating loss and a family member turned me onto Christian Radio. I was blown away by the way God used this music to minister to the heart. It wasn't long before I felt that nudge to change career paths. That was eight years ago and looking back, I now know my years in broadcast news were simply part of His plan to get me where I am today. To be able to share my faith on a daily basis is a dream come true.
My favorite scripture is Isaiah 55:10-11,
"As the rain and snow come down from heaven, and do not return to it without watering the earth and making it bud and flourish, so that it yields seed for the sower and bread for the eater, so is my word that goes out from my mouth: It will not return to me empty, but will accomplish what I desire and achieve the purpose for which I sent it."
When I'm not sharing life with you on 103.7 The Connection, I love traveling, hiking, running, and hanging out with my two favorite people on the planet – my son, Dylan, and daughter, Ava.