Crocus Hunting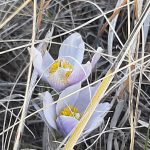 The first flower of spring in North Dakota is the crocus. I love going out to the Theodore Roosevelt National Park to search for these glimpses of new life. I have coined this "crocus hunting." In the Park, crocuses usually can't be seen from the road. Instead, you have to get out and go for a hike to find these treasures.

Well, as you are aware, North Dakota is in a state of extreme drought. There have been many fires in the area, including the Badlands. While I knew the areas where I usually find crocuses weren't affected by the fire, I still had doubt I would find any this year. The dry conditions had been discouraging for me and frankly, I have been concerned about all things that grow – whether it is on the prairie or in the farmer's field.

I reluctantly went "crocus hunting" a few weekends ago. I embarked on the Wind Canyon trail with my eyes glued to my surroundings but without a lot of expectation of success. A few yards into my hike, to my delight, I found a single crocus! I snapped a photo with my phone as I figured this would probably be the only one that I would see. I proceeded down the trail (and up a butte), pleased that I at least found one treasure. On my way down the other side of the butte, I found another crocus. Then another and another! Soon, the more I looked, the more flowers I found! I was so delighted I almost danced down the trail back to the vehicle.

As I pondered this experience, I kept thinking how God gives us glimpses of hope even in the midst of difficulty. We go through seasons of drought in our lives, but God is still in control and walks with us. We can choose to focus on the brown grass and diminished rivers, or we can focus on the flowers that He gives us (even though we may have to hunt for them).

Let us remember to look for those "flowers" He gives us in drought and in plenty.
"The desert and the dry land will be glad; the wilderness will rejoice and blossom like the crocus." – Isaiah 35:1 (CEB)