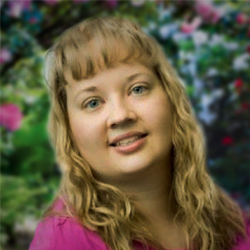 I am so excited and blessed to be a part of this wonderful ministry in Dickinson! I am a Dickinson native. I graduated from South Heart High School and then went on to receive my Bachelor's Degree in Business Administration at Dickinson State University. I have worked in various areas in my career and now I get to use those skills to help connect my community to Christ.
I believe my first CCM album was Steven Curtis Chapman's "The Great Adventure." I absolutely love Christian music and God has used it to encourage me many times! By the way, I am still a HUGE Steven Curtis Chapman fan!
I also love Christian concerts and have been blessed to be a part of bringing various concerts to Dickinson. In my spare time, I enjoy reading, travelling, hiking in the ND Badlands (when the weather permits!), volunteering at my church and spending time with friends and family.
One of my favorite verses is Lamentations 3:21-24:
But this I call to mind, and therefore I have hope: The steadfast love of the Lord never ceases; His mercies never come to an end; they are new every morning; great is Your faithfulness. "The Lord is my portion," says my soul, "therefore I will hope in Him."
I have continually seen God's faithfulness throughout my life.